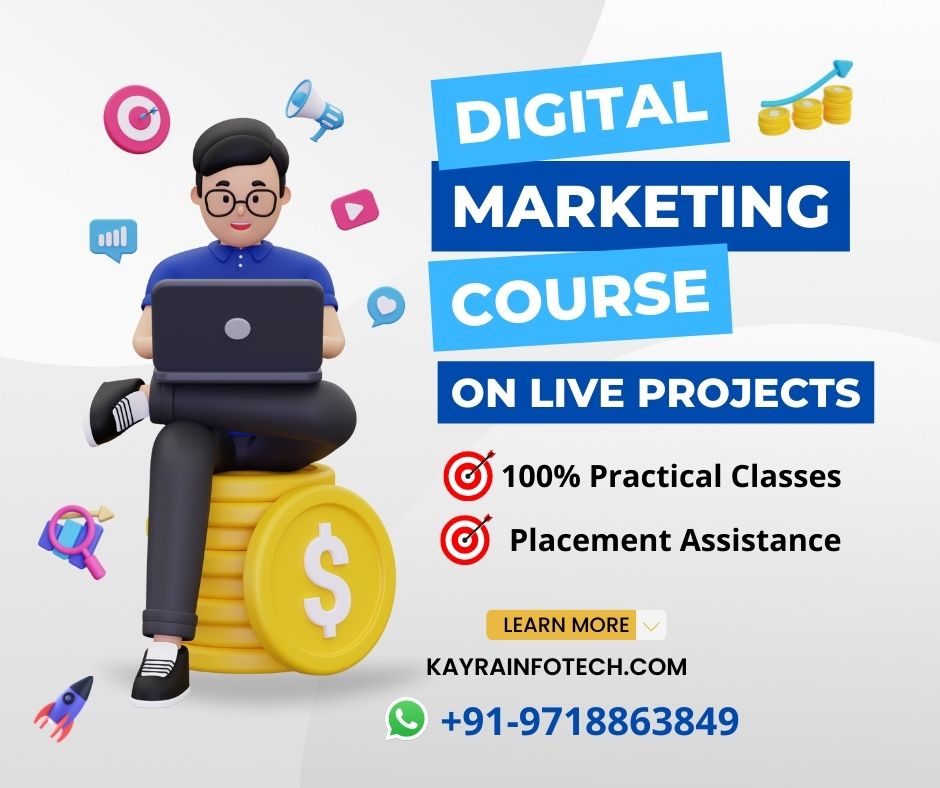 Call now for free Consultation at +91 971-886-3849 related to Digital marketing Course Training and Digital Marketing Services. Friends It is very important to recognize the difference between digital and marketing , digital word defines electronic technology that generates, stores, and processes data and marketing describe the promotion and marketing of a product and simply we say digital marketing is the advertising of goods and services , products using digital skills through internet , mobile phones or advertising display on your web/ website or any digital gadget you are using to promote the products , goods and services is known as digital marketing.
If you want to join the best digital marketing course in Dwarka Mod then join Kayra Infotech for Best Advanced Digital Marketing Course Training Dwarka Mor Delhi. Digital marketing is a always process of learning; Google keeps on update its algorithm frequently, having updated will make you a true master in Digital marketing. Friends one of the best ways to learn Digital marketing or internet marketing is all the way through classroom training, which plays a significant role in determining the hands-on exposure to all the disciplines within online marketing.
Friends you should develop skills in the following disciplines of digital marketing:
SEO (Search engine optimization)
SMO ( Social Media Marketing)
Facebook Marketing
Youtube Video Promotion Marketing
Email marketing
Mobile app marketing
Content marketing
Search engine marketing
Web analytics
The above capability is must master the Digital marketing or Internet Marketing as a discipline. This skill ability needs to be learned practically by professional trainer who has already worked.
Friends There are four significant criteria to choose a Best Digital Marketing Course Training in Dwarka Mod
Hurry Up Friends! BOOK YOUR DIGITAL MARKETING CLASSES